Mary M. Stroffolino
Rest in Peace
June 3, 1905 - July 15, 1998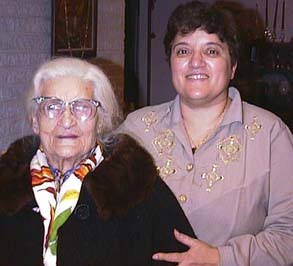 Mother, Grandmother, Great-grandmother
-Rose Torres
She was a fiesty women who refused help, wanting her own independence until two weeks prior to her stroke when she fell and broke her wrist. She was cantakerous at times, and at other times docile as a newborn baby. She had to be a tough cookie because she raised seven children by herself. Her husband died at 44, leaving her with seven children to raise the baby being 9 months and the oldest 16.

She loved talking, eating, cooking, and being the center of attention especially at family affairs. She had a beautiful voice and would sing if prompted. She could dance the taratino. Lately her favorite saying was I want to do it my way. It was a pleasure to hear her laugh. She despised illness.

Remember her as she was. Fun-loving, Ornery, Talker, Stubborn, Independent, Gardener who grew the biggest tomatoe in 1996 (Jorge said it was 4 lbs but I thought it was almost three lbs.), Flexible (able to bend from the waist to do her garden activities - she could touch her toes), Dancer, Singer, Baby-lover, listening to Mass on Channel 54, saying several Rosaries a day, Hard working, etc.

We all loved her.

Click on these small images to see larger ones:



The pictures were taken by Michael Engle. He also has them and some sound clips on a page at: http://www.lanexperts.com/nanny
Here are some direct links to his "Nanny sound clips" (Note - it may take a few minutes to download these)
Nanny doesn't like Bob's Beer (500k)
Nanny says a prayer in Italian (1 meg)

Some history:
Maria Marino was born June 3, 1905 at 12 Fair Street, New Haven, Connecticut. Her father was 39 and her mother, Stella (Perfetto) Marino was 27 y.o. She was Stella's third child. She grew up in Italy. In 1926 Joseph Henry went to Italy and picked her to be his wife. She applied for a passport on November 15, 1926 at the American Consulate in Naples, Italy. The passport was issued on January 20, 1927. The following was on her passage information:
Navigazione Generale italiana
Age - 22, name: Maria Marino
Cabin nomber 551 (third class)
Mar 16, 1927
Mar 17, 1927
Palermo
5 Mar. 1927
Stamped: "Medico De Bordo"
Giuseppe Stroffolino (from Forchia. Providence of Benevento) and Mary Marino were married in NY at Casa Della Sarra Famiglia - Italian Axiliary Inc on March 30, 1927. Antonino Zaffiro and Fancesco Marino signed as witnesses.


This page was last updated Saturday, 10-Jul-1999 09:50:38 EDT.