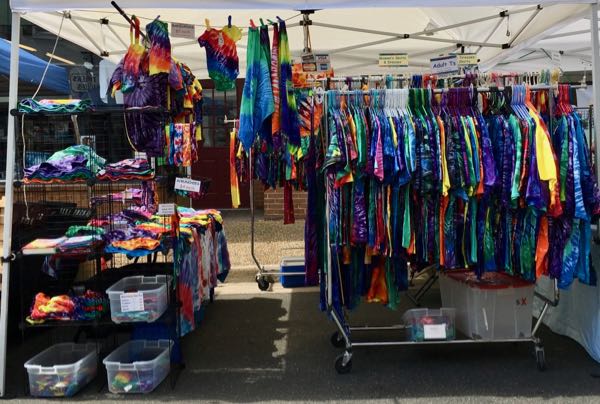 Welcome to BriteCloth TieDyes
BriteCloth TieDye is owned by Maria Stroffolino, a self-taught tie-dyer who has been dyeing clothing since the early '90s. In late 2000, BriteCloth TieDye was born and the following summer she vended at her first festival. In addition to traditional tie-dye methods using common patterns, she also does a modified "Low Immersion Dyeing" (LID) method for many of the adult dresses and skirts.

This summer BriteCloth TieDye started making Tie-Dye face masks. You can find pictures and information about the current inventory here: TieDye FaceMask

Below are links to pages with some of the most popular patterns on them. All items are dyed with Proceon MX dyes. To place an order, please send a description of what item/items you'd like—including pattern name and size-—and she will let you know if it is in stock. If the item is not in stock she will let you know how long it will take to make it. Sorry it's not more automatic. That'll be the next big project.

In addition to T-shirts, BriteCloth TieDye sells infant clothing, dresses, women's v-neck Ts, tank tops, children's pants, golf shirts, bags, bamboo socks, hats, pillow cases, book covers, headbands, scrunchies, dog shirts, boxers, and bandanas.

Please contact BriteCloth TieDye if you'd like to order something or have any questions.

You can also find BriteCloth TieDye on FaceBook.Thank you. Hope to hear from you.

Site Contents Copyright © 2000-2020 Maria Stroffolino, All Rights Reserved.